CreateLED's Black Technology Shines Across Two Continents
2023-06-16 00:00:00
Company News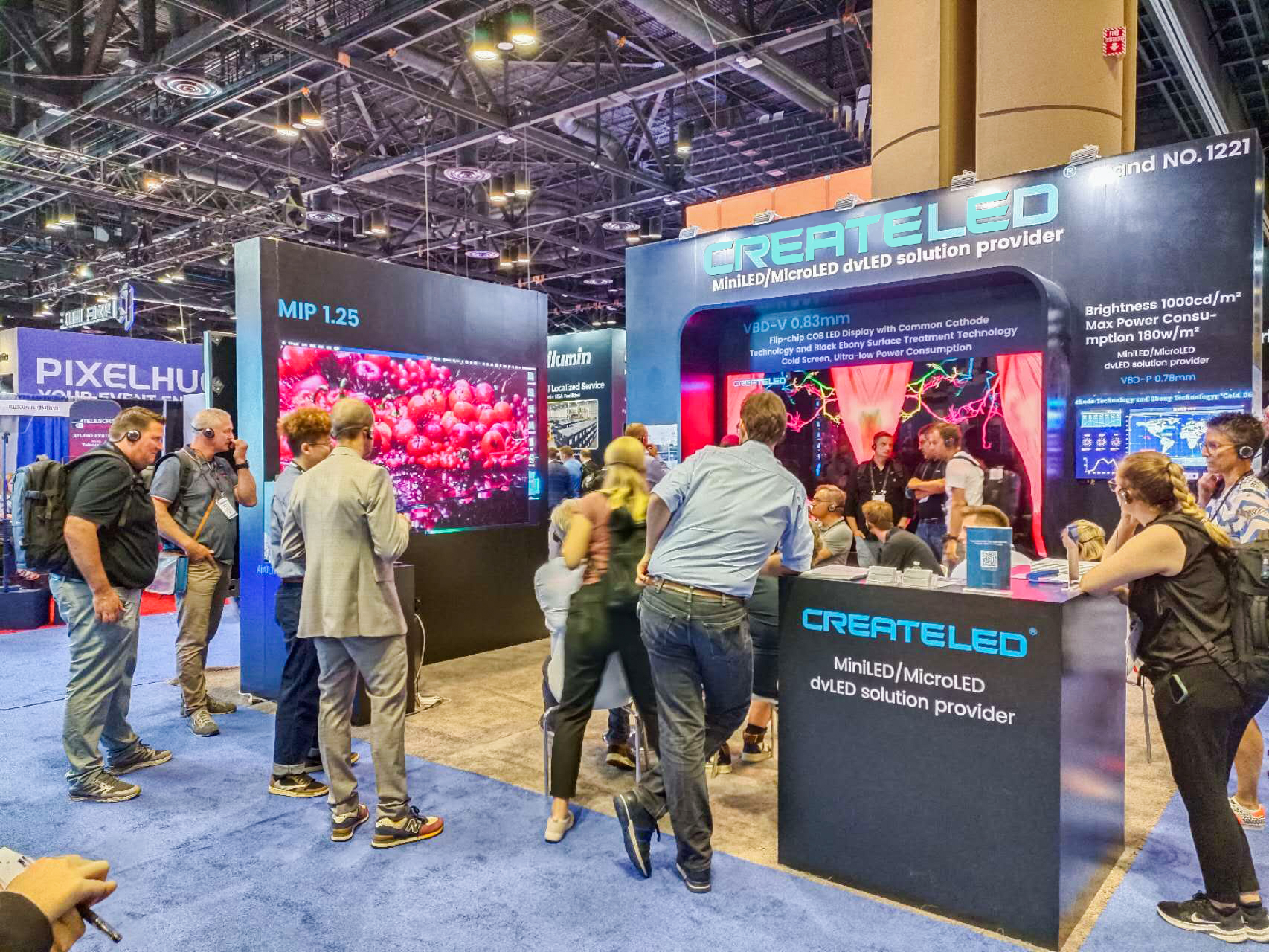 On June 16th, the 2023 InfoComm Exhibition, a 3-day audiovisual technology and systems integration exhibition in the United States, came to a successful conclusion in Orlando. CreateLED showcased its cutting-edge Mini/Micro LED series products and solutions on the global stage, after dazzling at the SLS exhibition in Saudi Arabia last month.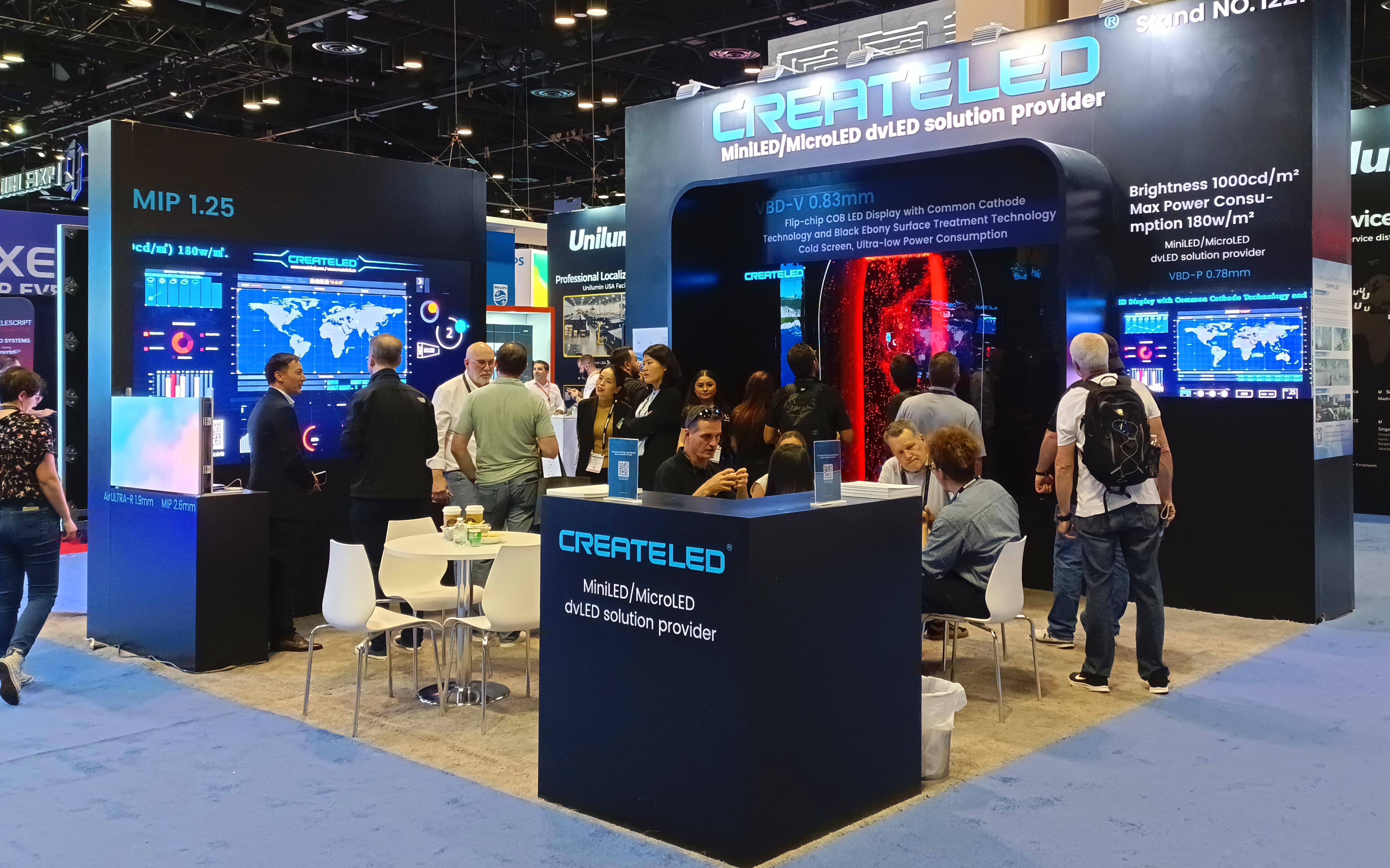 At the InfoComm exhibition, CreateLED's super lightweight and super clear Micro LED all-in-one machine broke conventional impressions and attracted considerable attention. In terms of product features, CreateLED's Micro LED all-in-one machine adopts an ultra-light and ultra-thin body design without complex steel structures or need for renovation.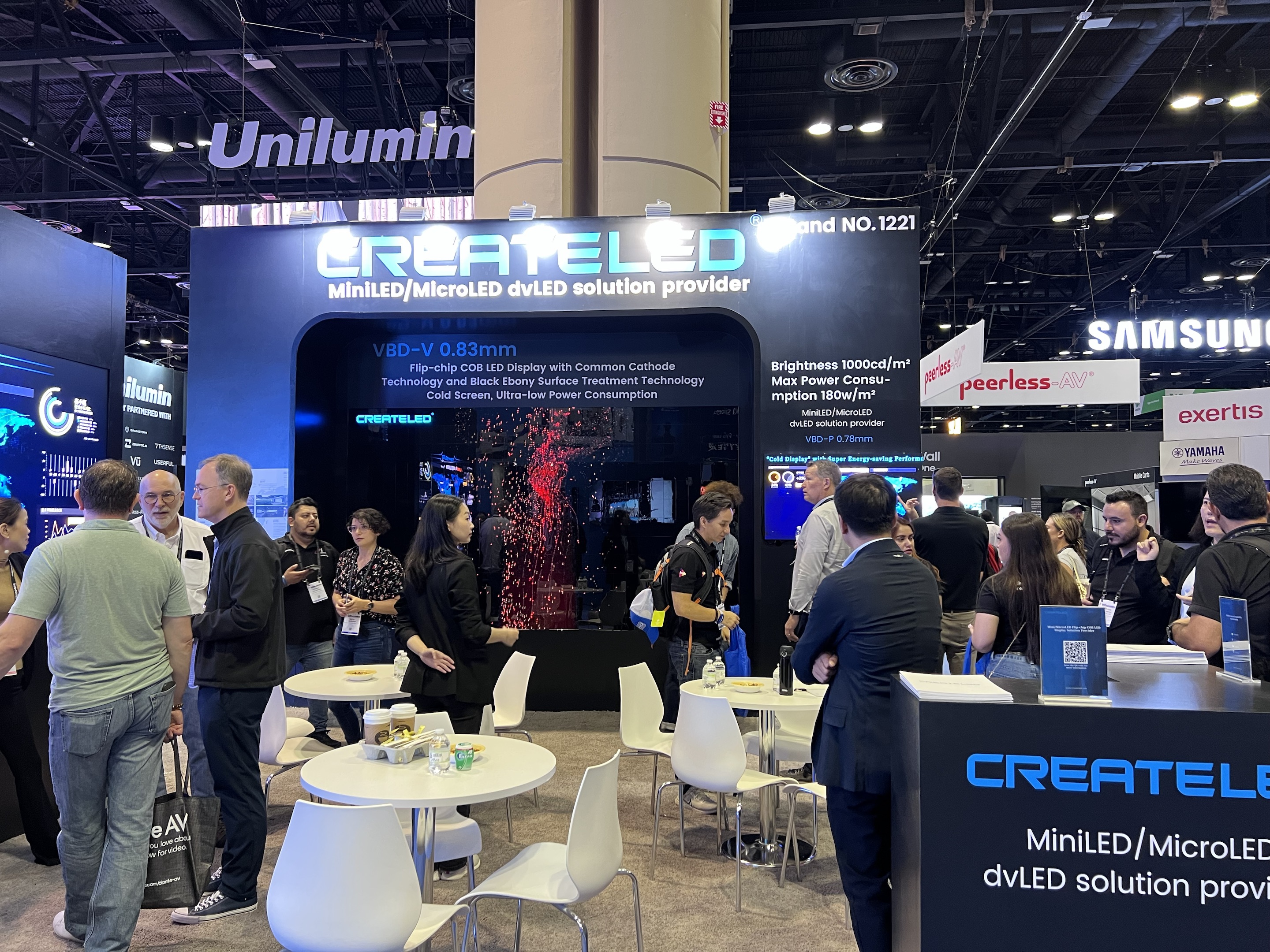 With built-in ALL-in-One integration technology and mature software applications, it can project wirelessly, control large screens with small screens, manage documents, video conferences and so on, integrating all the functions required for conference rooms. It also integrates audio and video signal processing so that one device can realize full-scenario, full-functionality, ushering conference room solutions into a new era.
As a star product of CreateLED, the VBD-V series product based on inverted COB chips attracted eyes everywhere, with professional COB calibration technology to avoid mottling, color blocks, moire and other issues on the display screen, ensuring better color, fidelity and uniformity for an ultimate visual experience.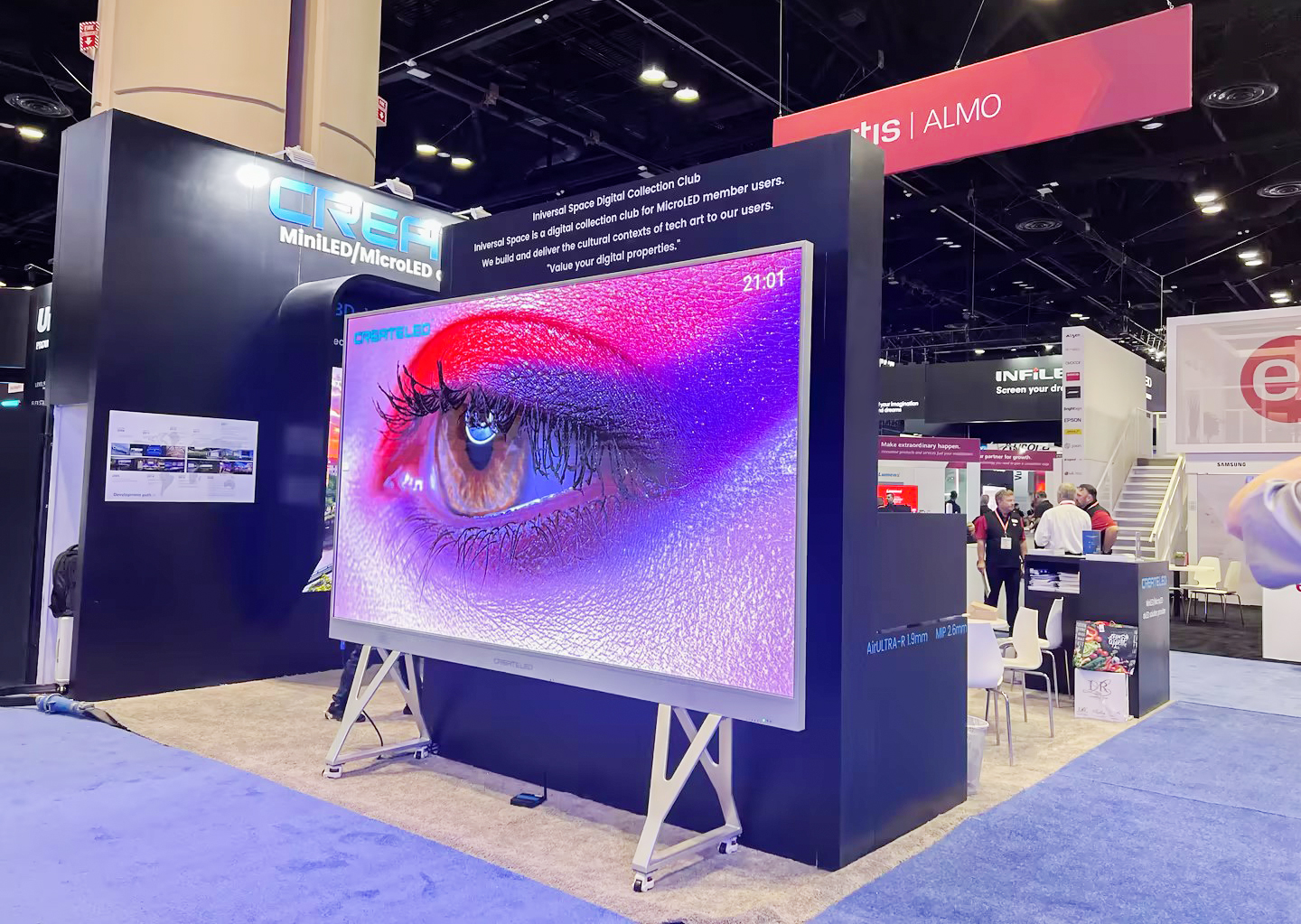 Under the same brightness conditions, the power consumption of the VBD-V series is as low as 20%, doubling energy savings. The efficient heat dissipation design without fans also enables higher thermal conduction efficiency, faster heat dissipation!
The strong integration of COB + Ebony also brings double protection and double safety. It is pressure and impact resistant with super high stability for longer lifespan.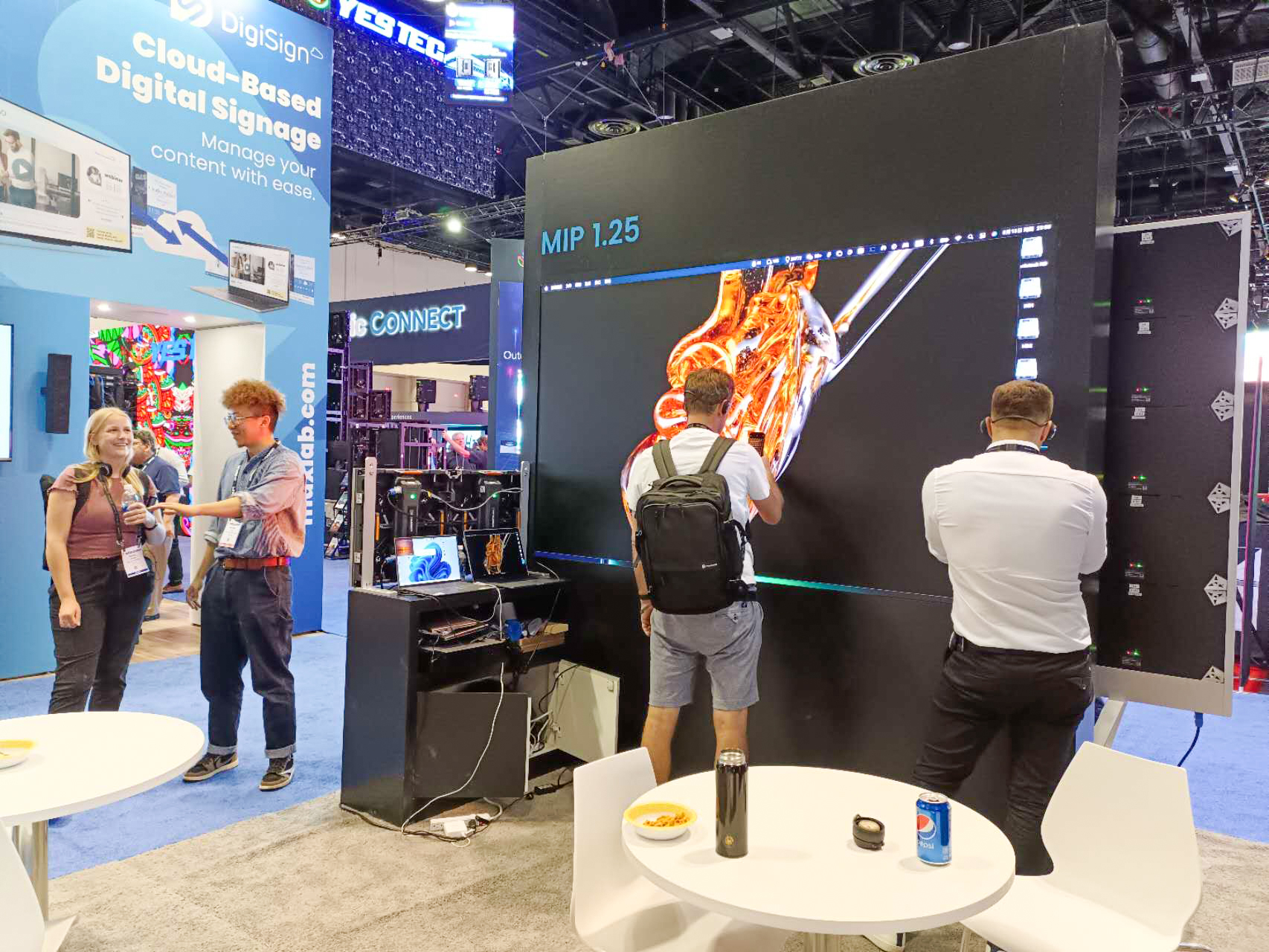 Another attention-grabbing product is CreateLED's newly launched MIP series using innovative package architecture with even smaller pixel pitches. MIP integrates RGB in one product, greatly improving the consistency of panel light emission and display. With excellent image presentation, extremely high resolution, natural and smooth motion without blurring, it can achieve impressive gray scale performance and present finer details.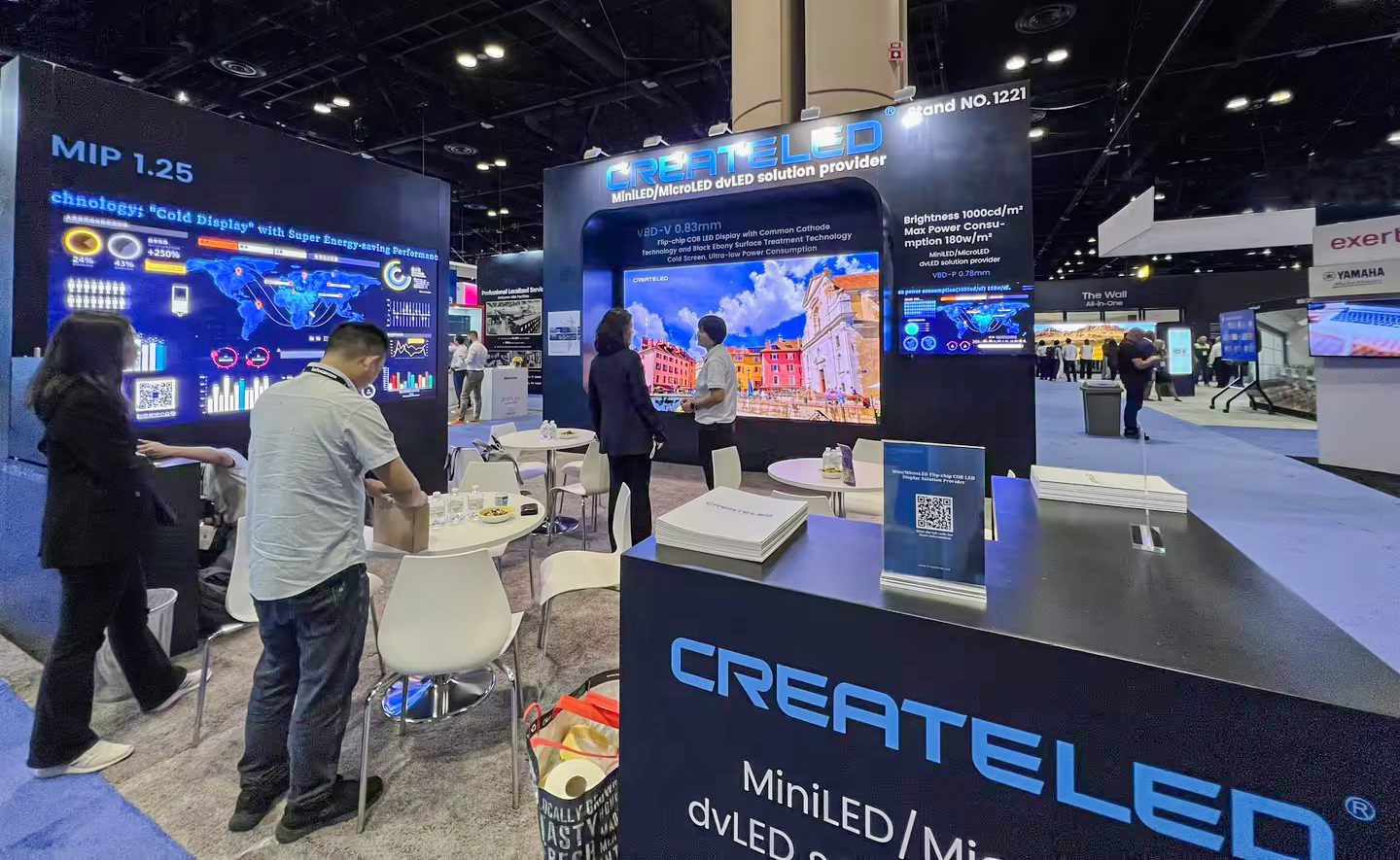 CreateLED's MIP series offers more possibilities in application scenarios. With flexible and scalable installation features, it can achieve outstanding large screen display accuracy for both near and far viewing.
The lightweight and streamlined design can accommodate diverse installations including wall-mounting or curved alignment, with versatile application scenarios including high-end enterprise conference rooms, exhibition halls, automotive design, museums and more.
It also saves time and effort with easy panel maintenance and repair. The front-end serviceable modular design reduces spare part inventory, greatly lowering maintenance costs.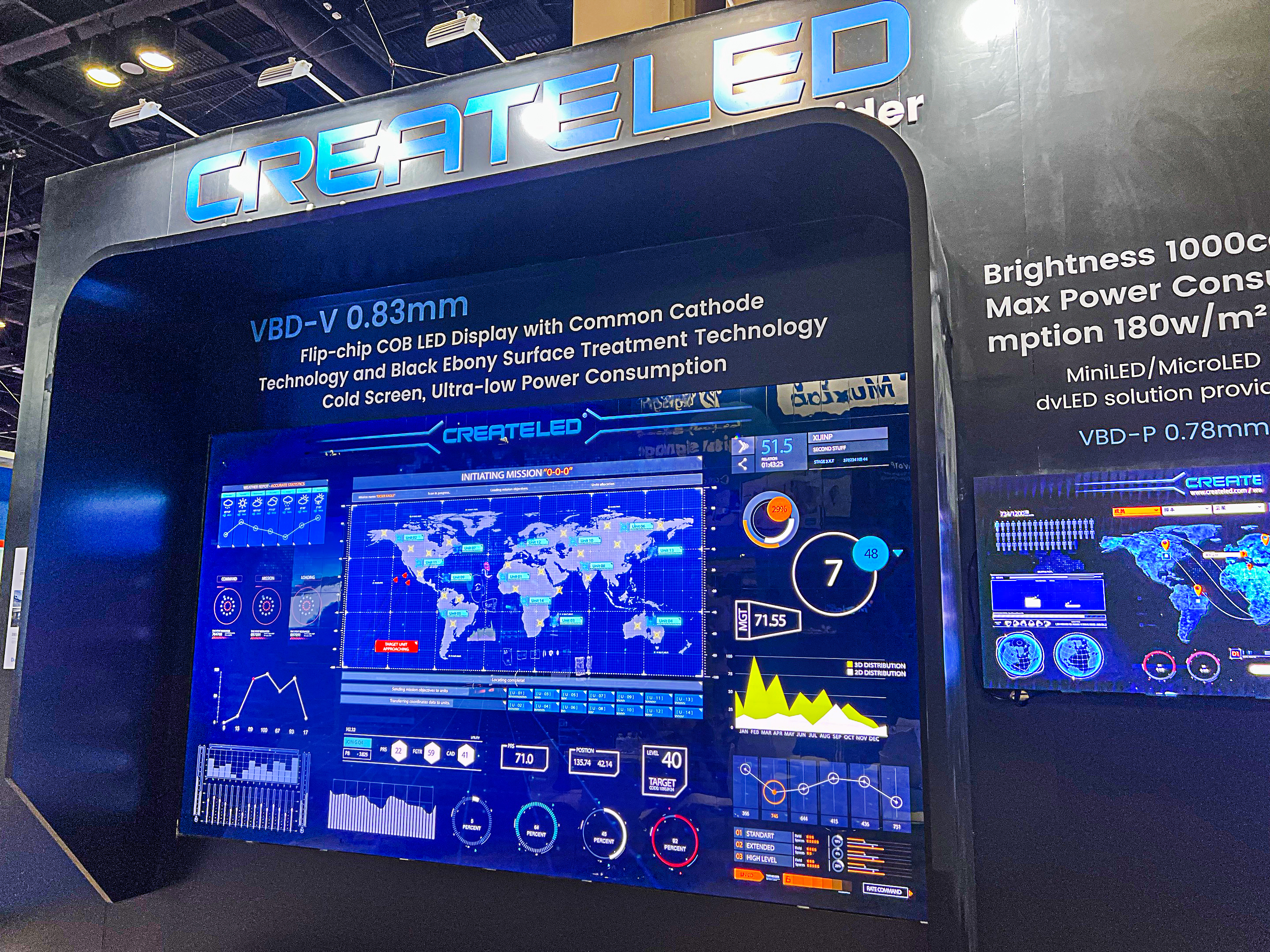 The AirULTRA-R series of brightness-adjustable, ultra-high resolution outdoor LED displays also shined brightly. With 3840Hz high refresh rate, wide color gamut, and high contrast ratio, the visual experience is leveled up. Adjustable panel brightness prevents eye strain even under sunlight.
Designed with lighting and installation environment in mind, the unique cabinet edge protection effectively prevents module bumps and scrapes, with high interference resistance suitable for diverse installations.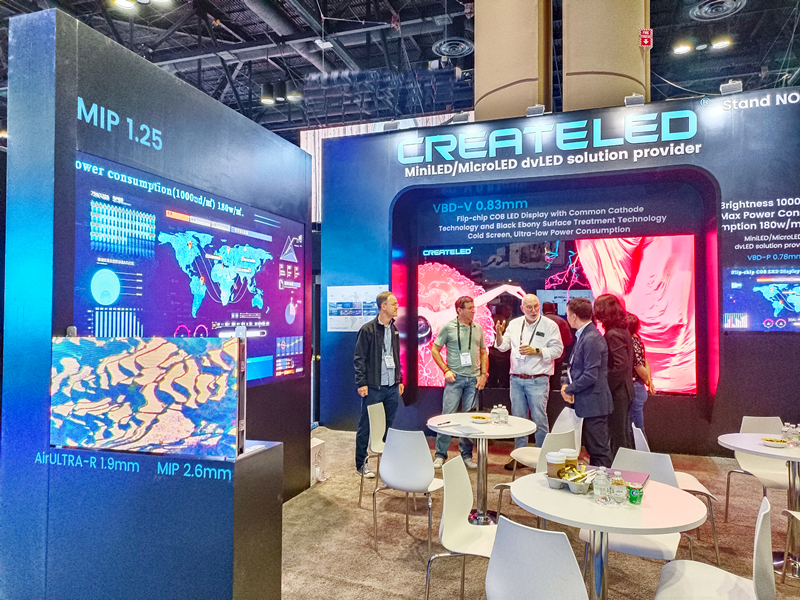 Coinciding with the InfoComm exhibition, CreateLED also brought similarly spectacular displays to the 2023 Saudi Lighting, Sound & Stage Exhibition (SLS) in late May, with a fiery enthusiasm rivaling the 40°C+ temperatures in Saudi Arabia.
From May 28-30, SLS was held in the Saudi capital Riyadh. CreateLED's Micro LED all-in-one conference machine attracted considerable Middle East interest with its high integration capabilities for conferencing and education settings. The highly attractive AirFLOOR-V1 product also enthused many interactive audiences onsite with its high-fidelity black technology display surface, effectively protecting LED lamps while being waterproof, wear-resistant and supportive of human-screen interaction.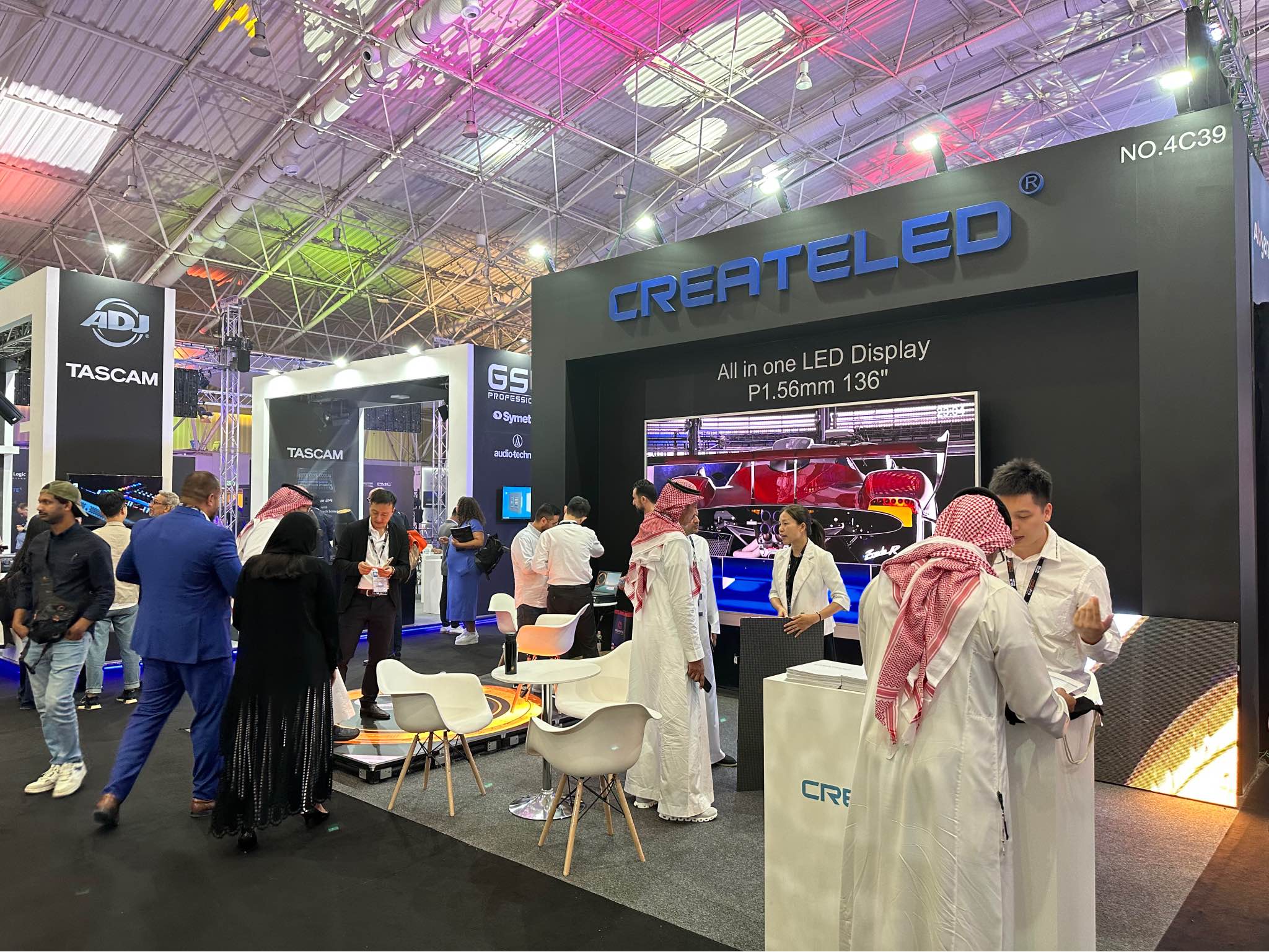 Unlike generic floor displays, CreateLED's AirFLOOR-V1 has a special structural design using carbon fiber materials for the support frame, which is not only pressure-resistant with strong bearing capacity but also lightweight. The interlocking floor tile frame enables more convenient and efficient onsite installation. Precise positioning prevents onsite adjustments and reduces workload. The carbon fiber support internally routes cables for wireless inter-screen connection with a neater appearance. Fans inside the support provide active cooling to keep floor screen operating temperatures low for stable long-term performance and prolonged lifespan.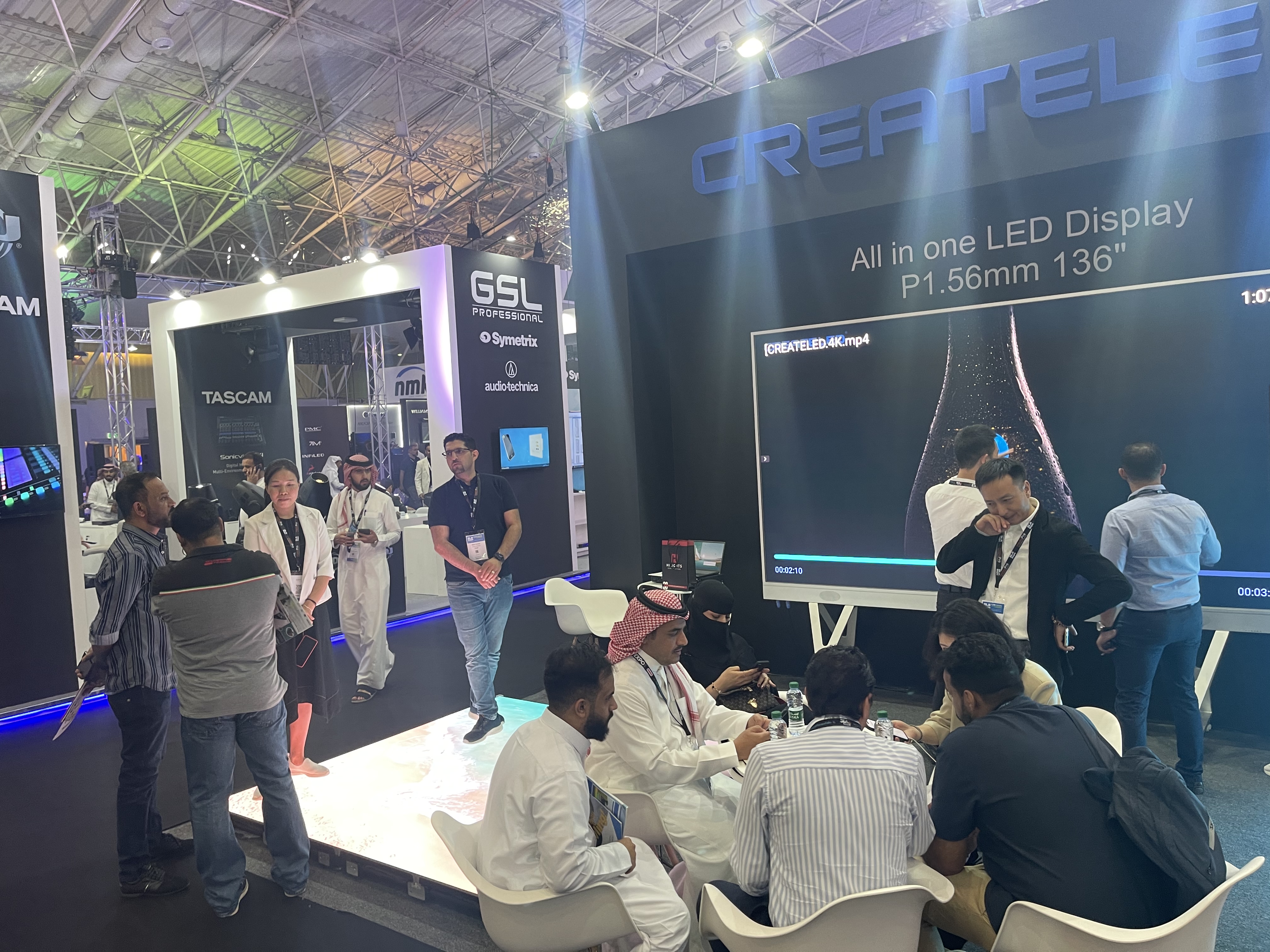 Whether at InfoComm or SLS, the bustling events will inevitably conclude, while only quality products can have enduring influence. Behind the onsite acclaim, CreateLED has upheld decades of tireless perfectionism towards product excellence. From product innovation to spearheading industry technological developments, CreateLED continues to blaze new trails of exploration, shining ever brighter on the global stage going forward.
Related Posts: